According to the most recent data from the American Road & Transportation Builders Association (ARTBA), 54,259 bridges of the 612,677 in the United States are considered "structurally deficient." While many of these bridges are still operational, they will require extensive repair and rehabilitation work to reach full operational capacity and extend their lives.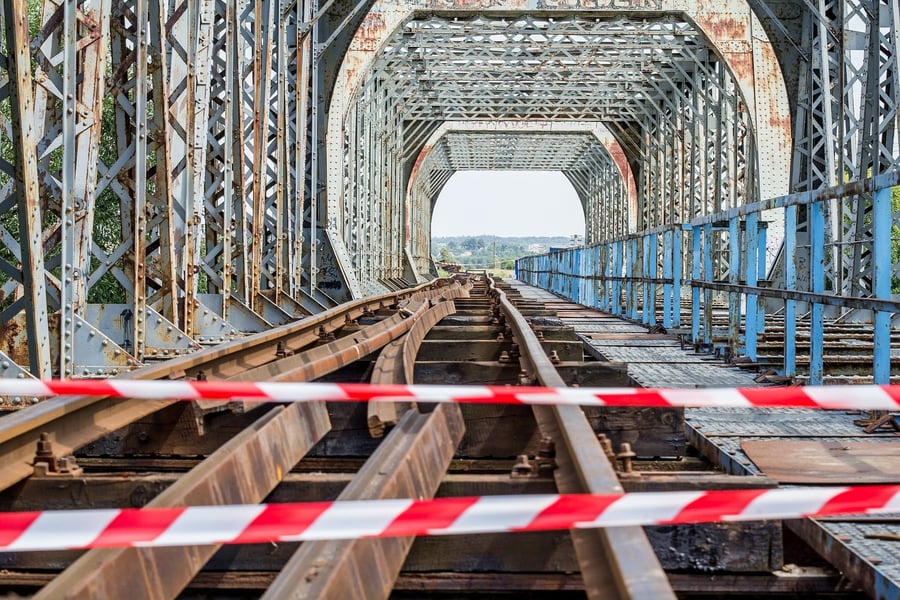 This is due in part to the realization that new bridges, once believed to have life expectancies of 75 years, typically have a lifespan of no more than 30 years due to regular wear and tear.
A bridge is classified as structurally deficient when elements of the bridge need to be monitored or repaired. A structurally deficient bridge is not likely to collapse, nor is it considered unsafe. However, it may be restricted to light vehicles or closed to traffic. Bridges are rated based on the National Bridge Inspection Standards (NBIS), which provides ratings from 0 (failed condition) to 9 (excellent condition).
Regardless, not all repair and rehabilitation projects are the same. Structurally deficient bridges must be inspected by accredited experts or engineers, who can then determine the properly required repair methods. Some of the more common techniques for bridge repairs include:


Expansion Joint Repair and Replacement
Bridge expansion joints allow traffic to continue seamlessly across a bridge structure. They also help to accommodate movement of the bridge, shrinkage, and variations in temperature that cause the bridge to naturally expand and contract.
However, as a bridge expands and contracts, the movement can result in concrete cracking and spalling, leading to leaks and the eventual failure of the expansion joint. Any evidence of cracking and spalling along expansion joints should warrant repair or replacement.
Expansion joints are one of the first elements of the bridge that must be repaired to expand the bride's lifespan. Monitoring and repairing these joints is an important step in the proactive maintenance of a bridge.


Structural Steel Girder Rehabilitation
Structural steel is widely used in construction projects and is one of the most commonly used materials for bridge girders. While steel is a versatile and durable material when properly maintained, it can suffer from corrosion, fatigue, deformation, and relaxation when subjected to stress over time. If there is any evidence of these symptoms, a bridge's structural steel may require rehabilitation.
Structural steel rehabilitation involves the straightening of bridge girders and other members if the bridge suffers impact damage or excessive corrosion due to improper drainage of water from the bridge deck. This process may involve welding and heating, replacing bridge bearings, or make emergency repairs, depending on the diagnosis.
A recent UHPC repair method has been developed by the University of Connecticut in collaboration with the Connecticut DOT. The current repair method requires jacking of the superstructure, cutting out the corroded section of steel girders, welding a new steel section in place, and lowering the span. This method is expensive, time-consuming, intensive in labor and traffic disrupting. It also requires extensive surface preparation and often has continued corrosion.
The newly developed UHPC solution requires studs to be welded on the existing steel bridge girder that are encased in UHPC. This enhances the structural capacity and durability of the steel girder with minimum labor and traffic interruption at a lower cost.


Substructure Replacement
Substructures are typically made from concrete, steel, and wood, in some cases. Each material is prone to different types of deterioration such as erosion and corrosion. Wooden substructures may also be vulnerable to fungal decay and other natural processes.
Experts can determine if a bridge is suffering from a loss of bearing capacity based on the substructure's footings and pilings, or is suffering a loss of capacity based on the corrosion of the bridge's columns and piers.
If there is any evidence of deterioration, cracking, impact damage, shear damage or insufficient seismic capacity, substructures may need to be replaced or reinforced with new materials.
An ideal solution is UHPC jacketing where the deteriorated concrete and rebar due to chloride ingress of an existing pier or column is removed prior to pouring UHPC around the column.


Superstructure Replacement
A bridge's superstructure can suffer many different types of damage, both from the elements and from regular use over time. When determining between rehabilitation or replacement, both the structural integrity and traffic control limitations must be taken into consideration.
For instance, if temporary traffic restrictions to facilitate bridge replacement is not feasible, then rehabilitation may be the better solution.
On the flipside, when damage is severe enough that the superstructure cannot be repaired or rehabilitated, the superstructure may need to be demolished and replaced. Superstructures are typically replaced with new concrete slabs.
UHPC field-cast connections are also an ideal repair solution. It's been used in the US for over 10 years. Since 2006, over 180 field-cast UHPC projects have been deployed, with over 100 bridges in the USA by 20 DOTs and with over 80 bridges in Canada by 5 Provincial Ministries of Transportation. Visit this link for an interactive map displaying bridges across the US and Canada using UHPC.
Also used in Accelerate Bridge Construction, field-cast UHPC connections for precast bridge elements have proven to be the strongest connection of the bridge deck system, whereby connections made out of other cementitious materials used to be the weakest link of a bridge. The FHWA published a TechNote on the Design and Construction of Field-Cast UHPC Connections.


Deck Rehabilitation
If more than 20% of a deck has been spalled or delaminated, it should be replaced. However, deck rehabilitation with overlays may be an option if the deck is suffering from simple cracks and microfractures. Deck rehabilitation with overlays is suitable in the following situations:
Rehabilitation or replacement of bridge deck overlays
Repair of the first rebar layer of an existing bridge deck
Making bridge decks continuous or composite
Economical repair with minimum traffic interruption
Deck Rehabilitation can be accomplished with multiple materials depending on the need, such as:
Polymer-Modified Concrete
Latex-Modified Concrete
Reinforced Concrete
Ultra High-Performance Concrete (UHPC)
Each of these materials has particular attributes that make it the best system for that particular repair. The goal of any deck rehabilitation is to extend the life of the deck (and thus postpone complete deck replacement) for years and some cases decades.
UHPC overlays are very common in Europe and have recently been installed in the USA. So far 4 projects have been completed by 2 DOTs. This solution is very feasible for large bridge projects that allow only for minimum traffic interruptions.


Turn to the Experts
UHPC is one of the latest bridge repair and rehabilitation innovations. Even just a thin UHPC layer applied to a deck can last significantly longer than other deck overlays. Field cast UHPC can also be used in numerous other bridge repair and rehabilitation contexts such as pier jacketing, connections for precast bridge elements, and corroded steel girders. Contact UHPC Solutions today to learn more or to discuss your next project.