While the latest infrastructure report card grades our infrastructure at a D+, our country's bridges received a grade of C+ due to a high rate of structurally deficient bridges. Properly proportioning, mixing, placing and curing of concrete are vital to the quality of the concrete, thus the material performance and structural integrity. Below we provide an overview of commonly-used concrete mixing and pouring techniques to produce high-quality material and final products.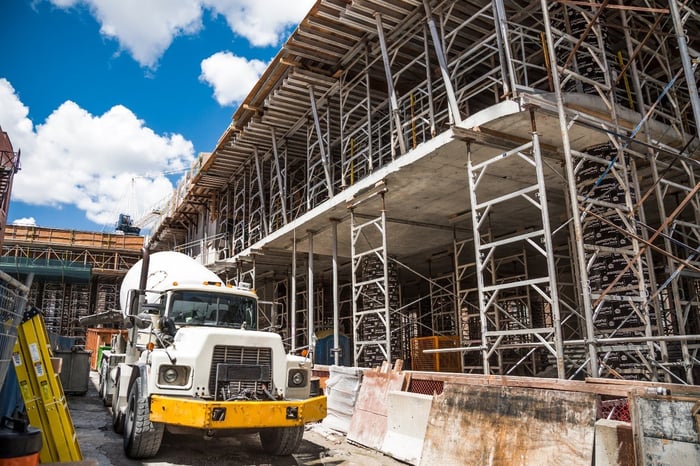 Concrete Mixing Methods
Standard concrete is generally a mixture by absolute volume of 60-75% aggregates (coarse & fine), 7-15% cementitious materials and 14-21% water with an entrapped air or purposely entrained air. Care and effort are required to combine all ingredients into a well-mixed and homogeneous mixture. There are three common methods for mixing concrete:
Hand Mixing: As the name implies, hand mixing involves the manual mixing of concrete on a masonry platform or flat iron sheet plates. This technique is used for small home improvement projects. Quality and consistency are difficult to achieve with this method.
Machine Mixing: With larger projects, using a machine or a stationary mixer is an efficient way to get a homogeneous concrete mix. Machine mixing can involve a small portable drum mixer up to larger stationary mixer which include both jobsite mixers in a portable plant and central mixers in ready mix plants.
Ready Mix: Ready mix concrete is produced, mixed, and batched in a concrete plant and delivered to the project in a freshly mixed state. This method is an efficient solution for projects that have limited onsite space. For a dry batch concrete plant, the raw materials are weighted and placed into the ready mix truck for complete mixing. For a wet batch concrete plant, the raw materials are completely mixed in a stationary central mixer and then transported by a ready mix truck.
Mixing Equipment
Portable mixers vary in size, speed controls, and fuel consumption (gasoline and electric), and as a result are a great option for smaller projects. In contrast, ready mix trucks are more often used for larger applications. When working with ready mix concrete there are time limitations to watch for.
Pavement Interactive states, "In general, short times between mixing and placement can better avoid the problems of premature hardening and slump loss that result from potential delays in transit. Regardless of the mixing mode, concrete is a perishable construction material. First, if it begins to set before being placed and consolidated it is of little use. Second, if it is mixed and agitated excessively it can lose its air entrainment or the effects of certain admixtures can diminish."
Onsite central and jobsite customized mix plants specialize in creating large batches of concrete for large construction projects. They use a wide array of equipment to efficiently proportion and mix concrete – from horizontal shaft mixers to conveyors and silos. Combining an efficient mode of concrete transport and an onsite central mix plant provide projects with convenient access to higher average quality concrete while remaining economically advantageous.
Custom onsite mixing plants are also viable options for large jobs and for projects in remote locations. This method is often better able to match the placement speed needed for various jobs. One example of this is our work on the Chillon Viaducts.
Concrete Pouring and Placing Methods
Just as there are various types of mixing techniques, concrete can be poured and placed in a variety of methods. The most manual method to place concrete is by hand and wheelbarrow or power buggy. Truck discharging is an efficient technique, especially as front discharge mixers become more commonplace. Concrete buckets are ideal for small volumes and can be used in projects that use chutes for concrete delivery. Alternatively, pumping is an ideal method for high volume applications, however, access and space constraints are common due to the large equipment.
UHPC Solutions: Industry Experts
Properly proportioning, mixing, placing and curing of concrete are essential to the structural integrity and durability of our bridges. UHPC Solutions is dedicated to solving the demands of our infrastructure. With over 70 years of experience, we are ready to collaborate with you and share our innovative solutions. Our experts are ready to discuss your project with you – Reach out today to get started.
To learn more about UHPC and how your projects can benefit from its application, reach out to us today.